The platform for companies that have the power to act.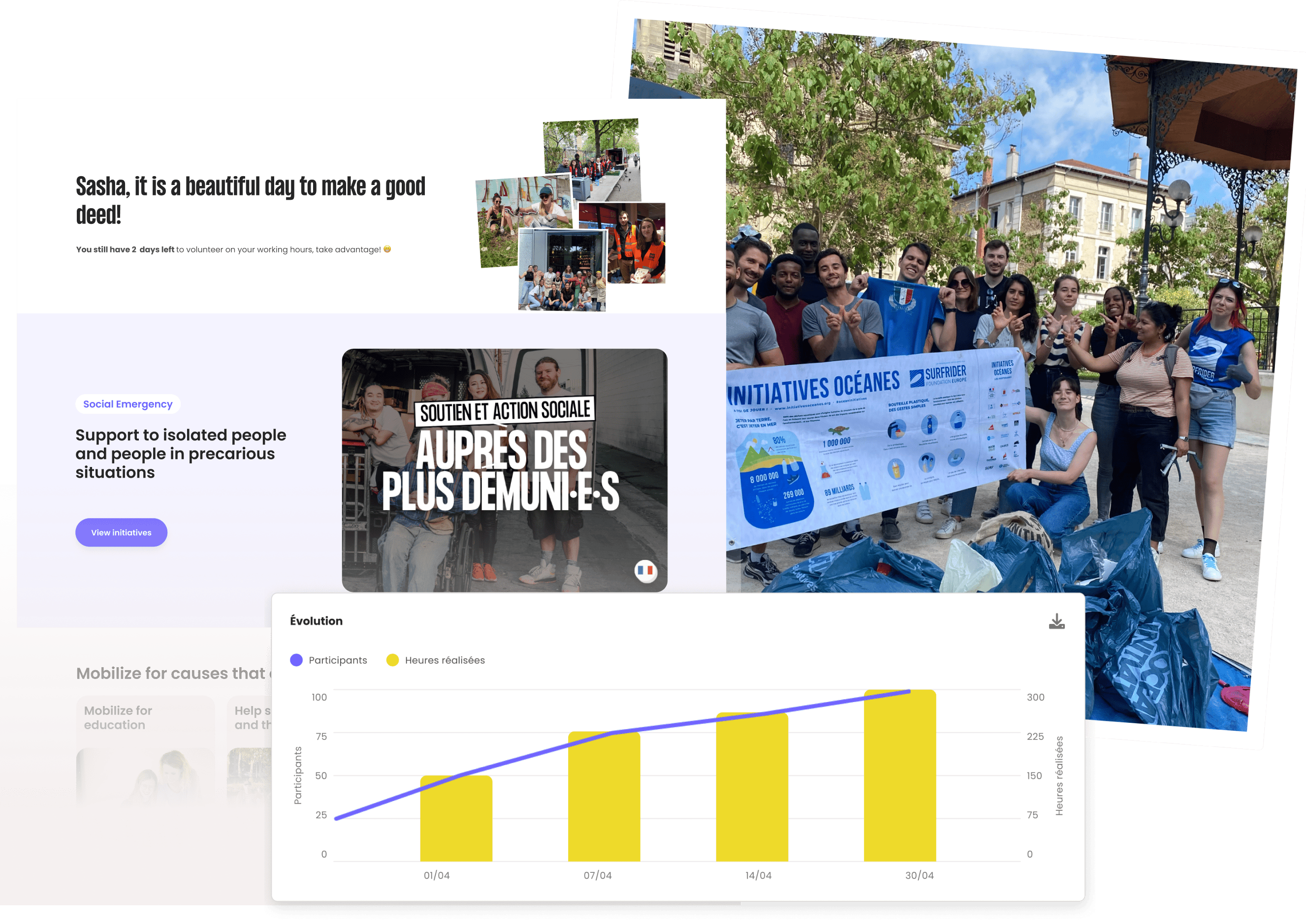 Engage your company, your employees and your stakeholders to positively contribute to society and support causes for the general interest.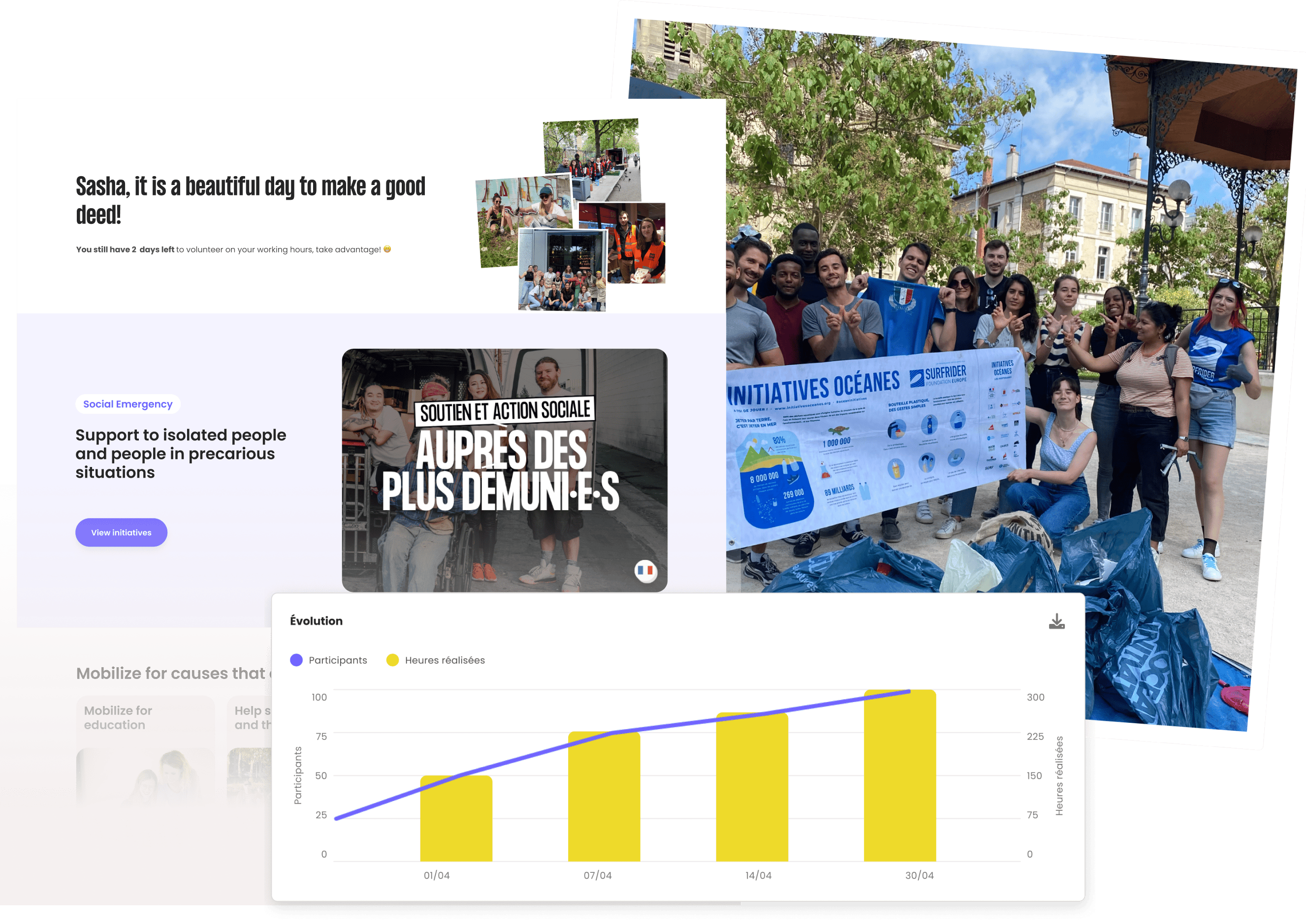 Over 100 000 employees have volunteered with 2 000 nonprofit organizations in 69 countries thanks to Wenabi
Solutions adapted to each company
There are many reasons for a company to commit itself to the general interest: social responsibility, employer brand, values, reputation, territorial anchoring... Each company is unique and has its own culture, its own expertise, its own history, its own volunteering capacities. Wenabi offers a variety of solutions so that each company can act at its own scale. Thanks to our platform and team of experts, Wenabi helps you act according to your capacities to have a maximum impact and to concretely help nonprofit organizations that need it.
Mobilize your employees with nonprofit organizations for the general interest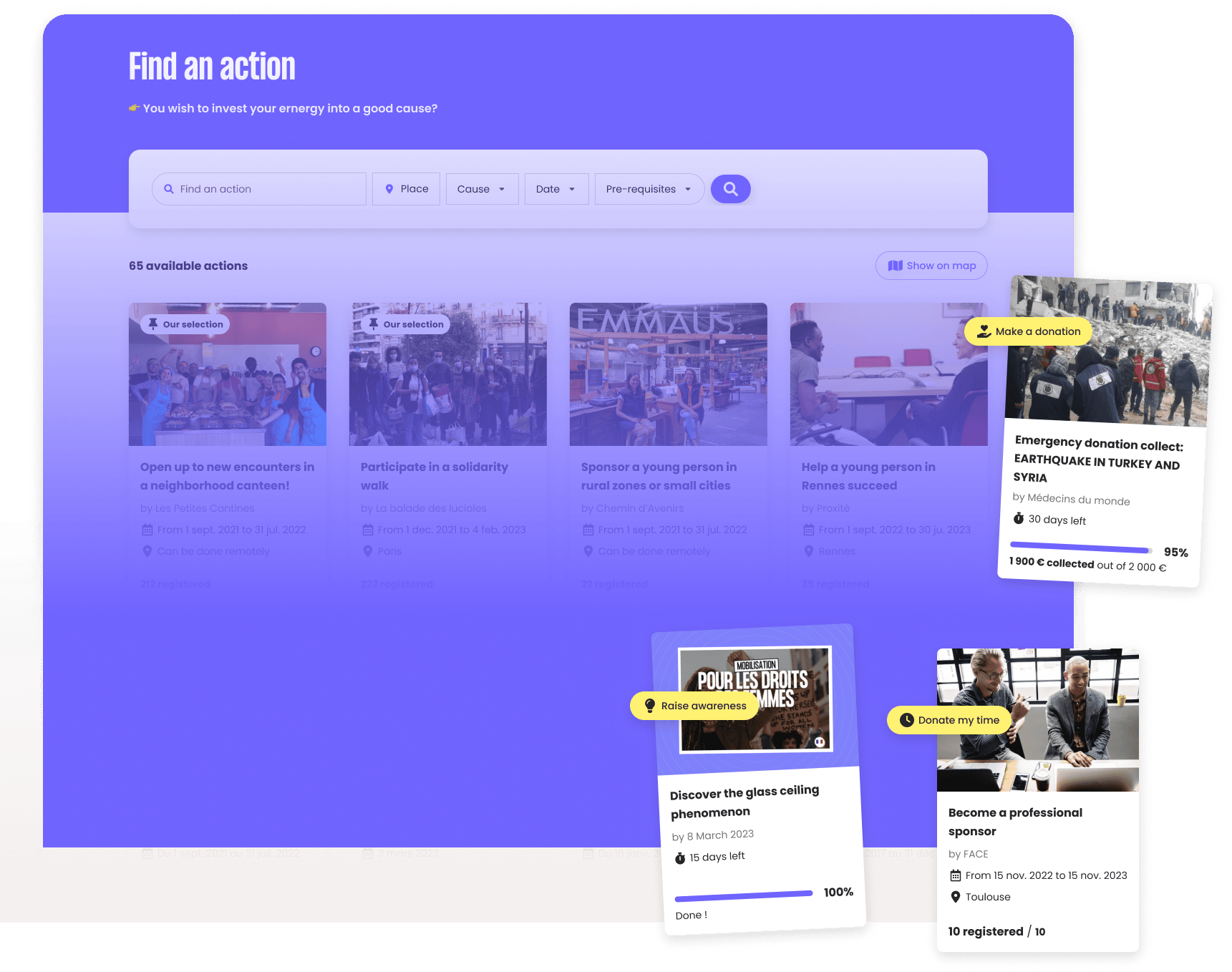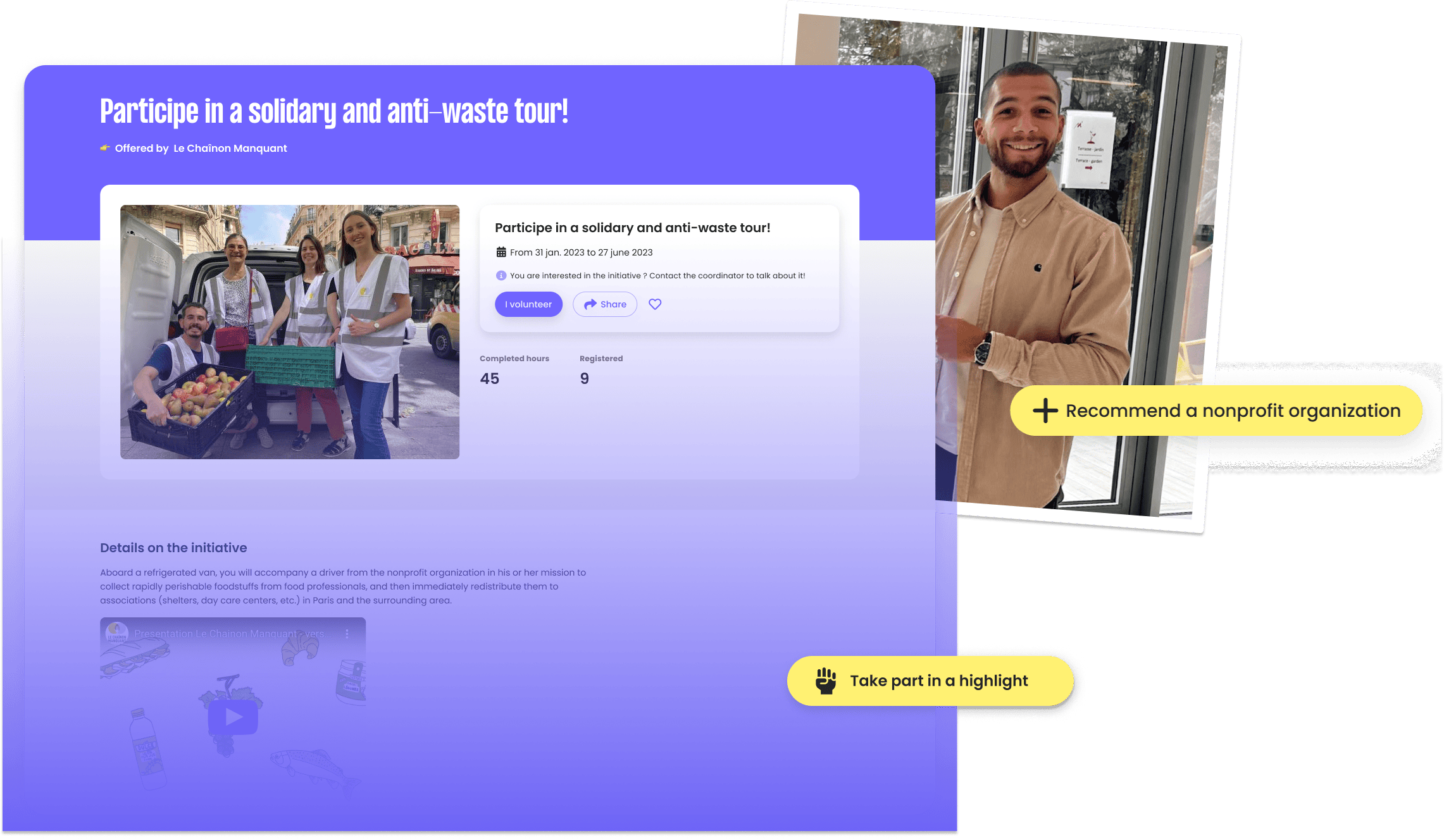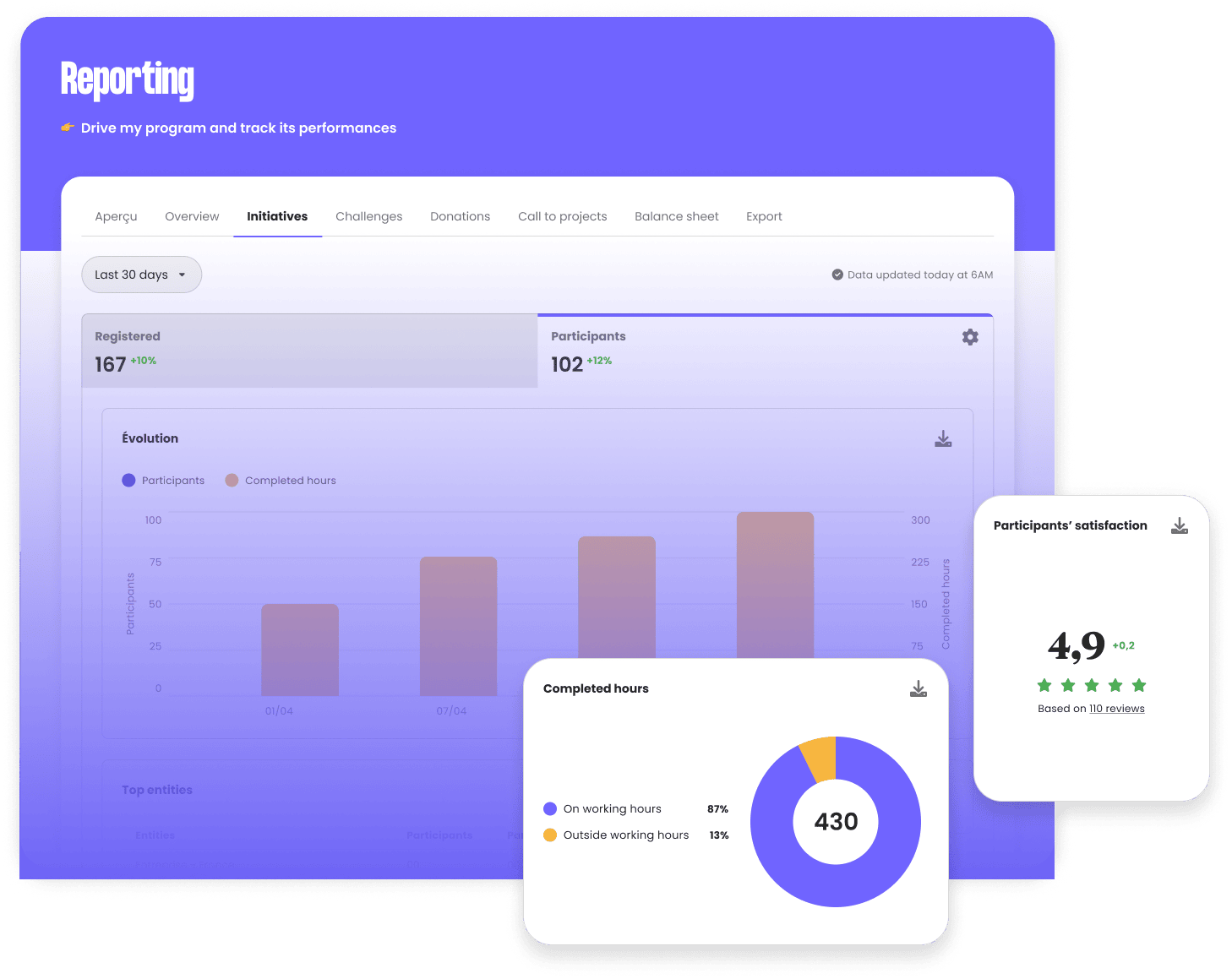 Stand up for causes that are important to you
Thank you! Your submission has been received!
Oops! Something went wrong while submitting the form.
Take part in the annual National Collection weekend
With Les Restos du Coeur
Social emergency
Make a donation to support homeless people
With Entourage
Social emergency
Cook meals for those in need in the UK
With FoodCycle
Social emergency
Help families in precarious situation find new homes
With Emmaüs Défi
Social emergency
You want to take action?
Our team of experts accompanies you throughout your volunteering program, from the reflexion upon your stakes to the creation of your customizable platform.
Talk to an expert
Our expertise adapts to all companies!
Turnkey
A turnkey tool

— The nonprofit organizations of your choice
— On themes of your choice
— Our awareness content
— A reporting with your principal KPIs
— All available on a simple and intuitive platform

The accompanying you need

— Turnkey communication kits
— An annual roadmap of animation settled at the launching
Talk to Pauline
Customizable
A customizable tool

— A customizable platform
— A catalog of actions chosen together
— Optimized employee pathway
— A complete reporting and exports
— Management of multilanguages

Custom-made support

— Dedicated project manager
— Co-construction of your program and annual roadmap
— Goal setting
— Customizable contents and communication kits
— Monthly or quarterly follow-up meetings
Talk to Laura
Custom-made
A flexible tool

— Different levels of administration
— Consolidated reportings
— Synthesis by scope
— High standards of security

Specific support

— Dedicated manager specialized in big accounts
— Custom-made roadmap
— Specific support for your ambassadors
— Events : association forum, lunch& learn, afterwork…
— Adaptable highlights and collections
— Specific support
— Access to our Partners' Club

Talk to Florence
What is the legal structure of Wenabi?
Wenabi is a social company serving the purpose of Tech for Good. Its legal form is a SAS. Wenabi is labelled as a ESUS (Social Utility Entreprise).
Is training required to learn how to use the platform?
Wenabi's platform is thought out to be accessible to all employees, without any training required. The administrators can get specific support from Wenabi's teams.
Is the platform available worldwide or just in France?
Wenabi is available in France and in over 69 countries (translated in 37 languages). It is deployed in a large number of subsidiary companies of our partner companies.
Does working remotely complexify the development of engagement programs?
The development of remote-working is an opportunity for social engagement as it allows employees to engage themselves closer to where they live. In addition, new forms of engagement have emerged with more missions that can be done remotely.