The platform that connects nonprofits to companies.
Find new volunteers and raise funds from companies that are committed to serving the general interest.
Over 100 000 employees volunteered with 2 000 nonprofit organizations in 69 countries thanks to Wenabi
Help you obtain resources to carry out your missions
— Take advantage of the great diversity of corporate resources: expertise, volunteers, financing, in-kind sponsorship.
— Make your nonprofit organization known and raise awareness around your cause: webinars, events, awareness actions
— Start with your needs on the ground and choose your partner companies according to your values.
The reference solution to connect Companies - Nonprofits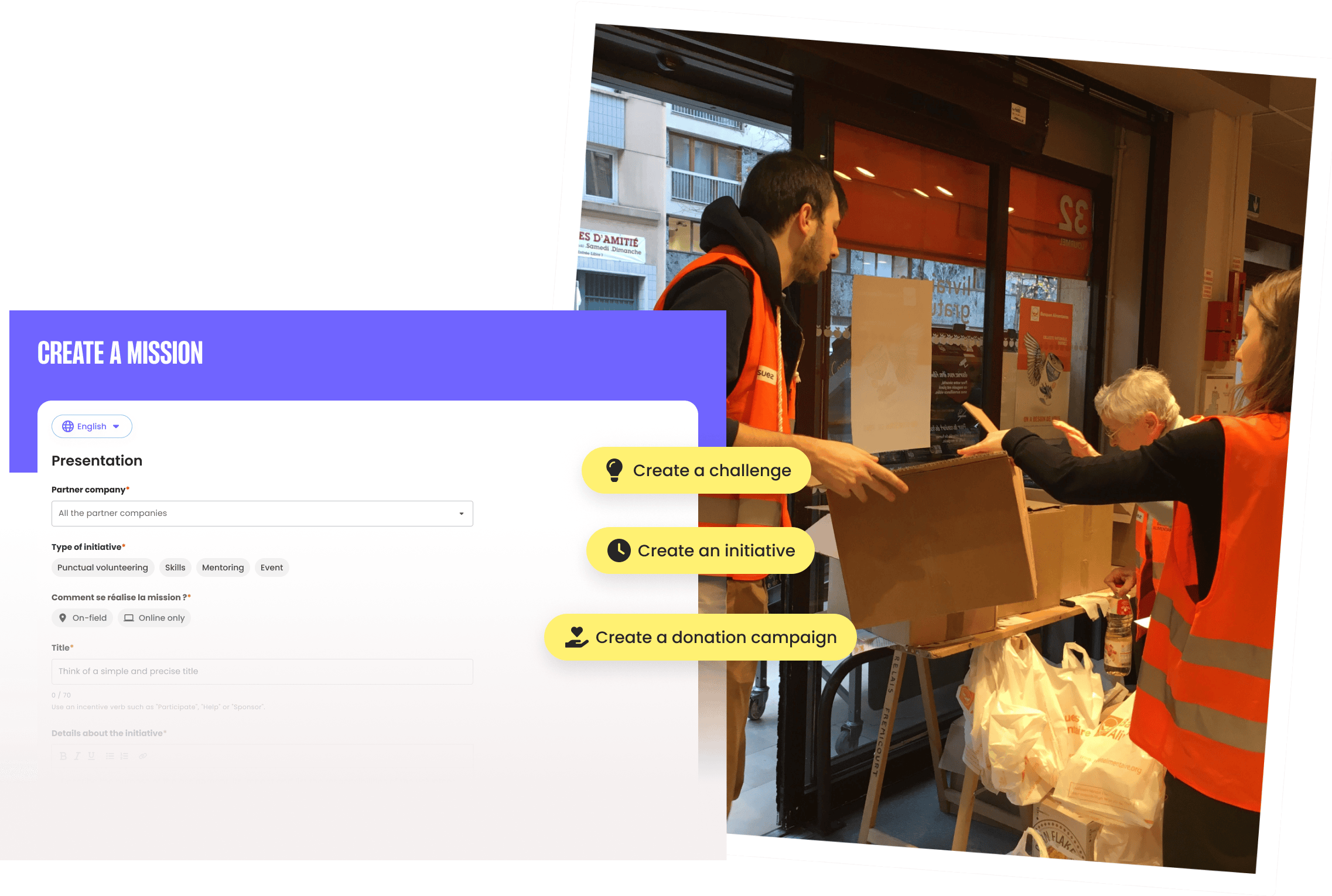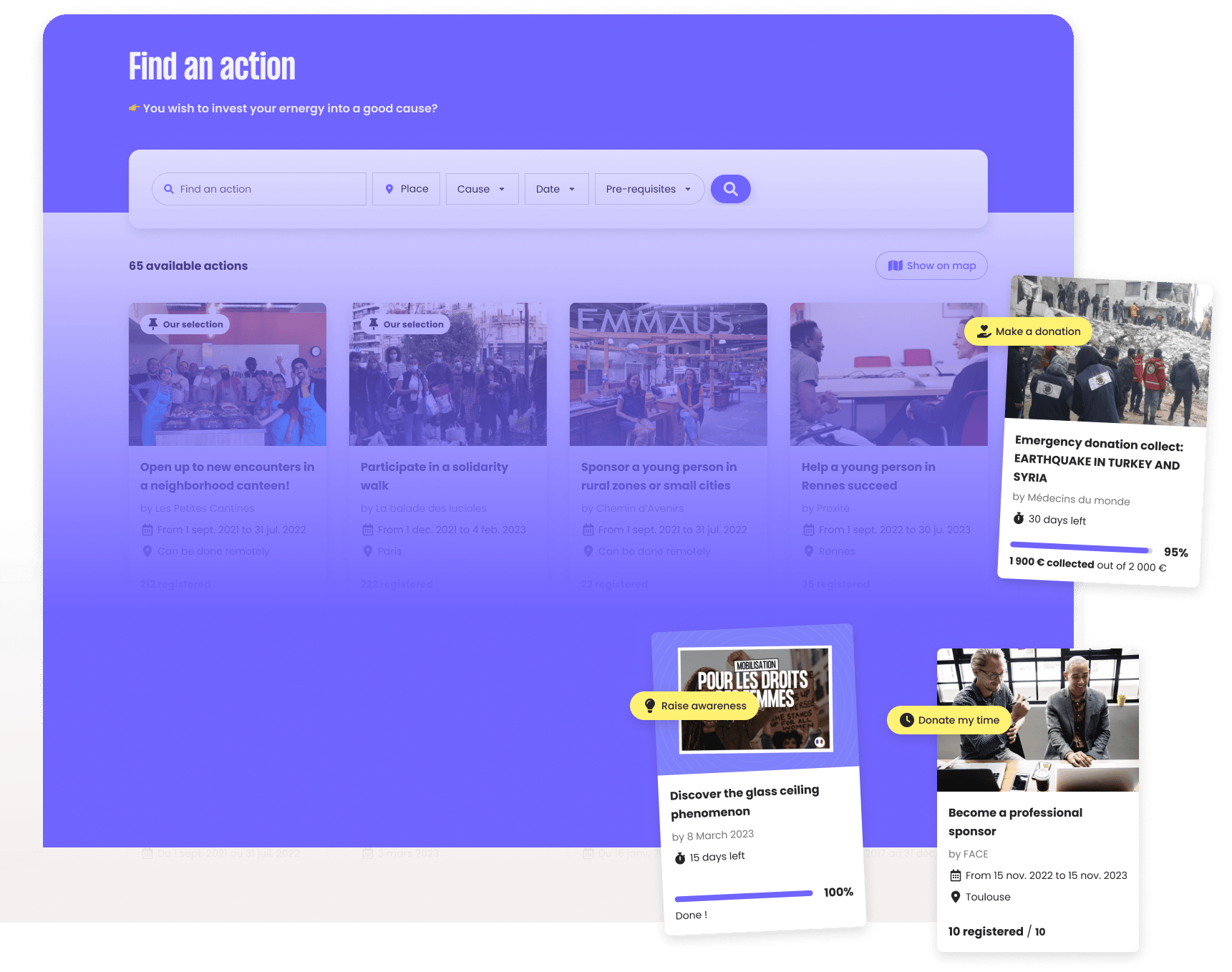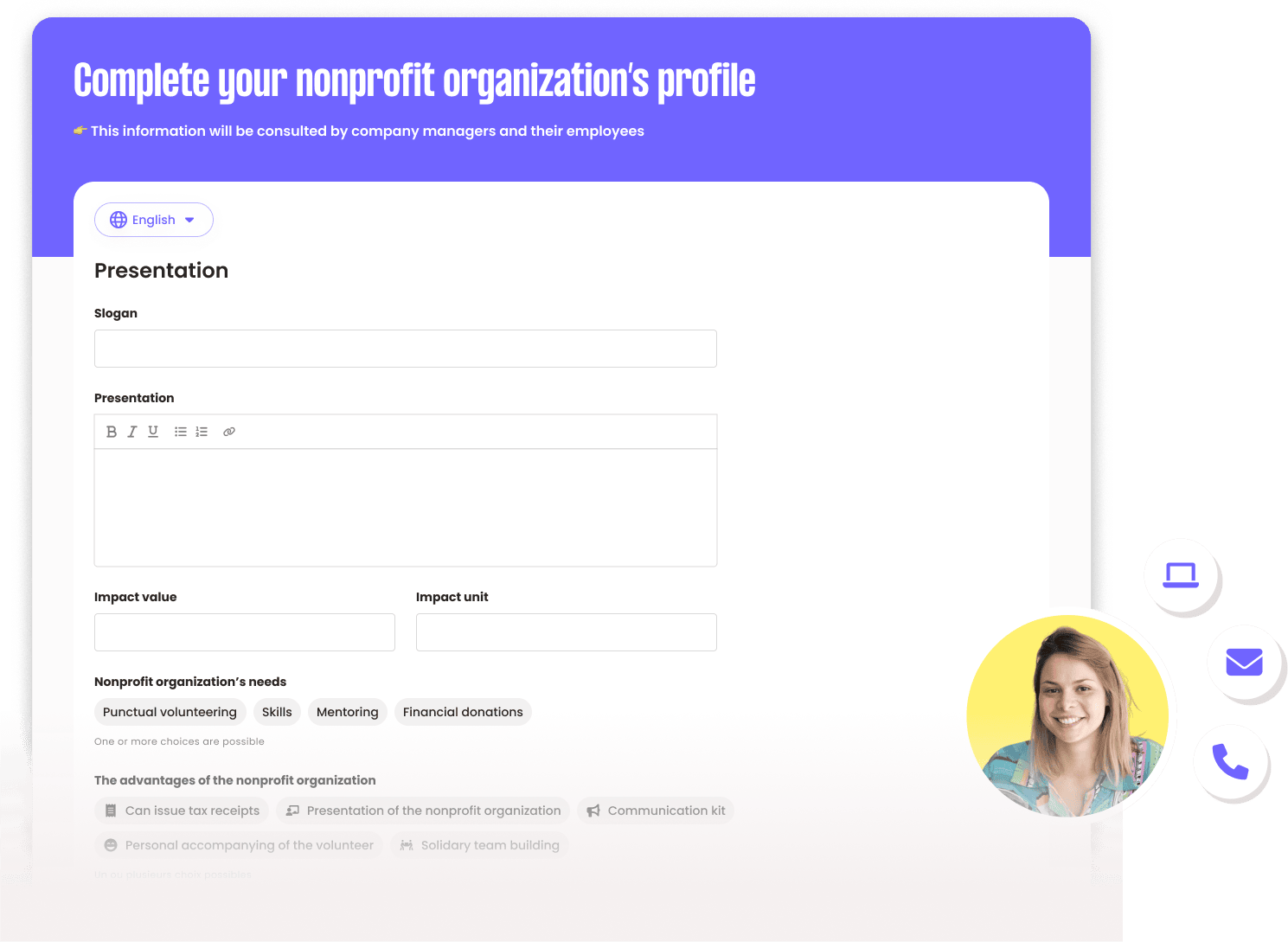 LET'S MOBILIZE FOR THE CAUSES THAT YOU DEFEND
Thank you! Your submission has been received!
Oops! Something went wrong while submitting the form.
Take part in the annual National Collection weekend
With Les Restos du Coeur
Social emergency
Make a donation to support homeless people
With Entourage
Social emergency
Cook meals for those in need in the UK
With FoodCycle
Social emergency
Help families in precarious situation find new homes
With Emmaüs Défi
Social emergency
We act together
"We made the choice to fully support our partner nonprofit organizations, including financial, material and skill support. This is why 164 employees of Pierre et Vacances have already been able to support the LÉA nonprofit organization. A beautiful story that we are thrilled to write with their teams!"
"Pierre et Vacances is a not only a great financial and material support, but it is mostly a human support with the help of its employees who mobilize themselves and give life to out Chantiers Solidaires. The human aspect is primary in this partnership between Pierre & Vacances and the LÉA nonprofit organization."
Frequently asked questions
What is the criteria to sign up on the platform?
Your structure must answer to a non-religious and non-political mission that serves the general interest. It can be a nonprofit organization, a foundation or a social enterprise.
Can we be more than one person managing the nonprofit organization's account on the platform?
You have the option of creating as many use accesses as you wish. This is practical to allow regional antennas to locally manage their missions.
How do partnerships work with companies?
Your partnership conditions are displayed on your profil and can be seen by companies. You can indicate to companies that a certain budget is necessary to establish a partnership with your nonprofit organization. We do not ask companies or nonprofit organizations to sign an agreement or contract, however some companies may ask for it.
Is it possible to integrate my volunteer registration form on wenabi?
You have the possibility of integrating a registration form or link towards your website in the initiative. We ask you to continue following and validating hours on wenabi for matters of insurance and validation with manager.
What are your commitments to nonprofit organizations?
1° Always start from your needs: Wenabi encourages its collaborators to get involved as much as possible but always starting from the needs of the nonprofit organizations.

2° Give you the freedom to create partnerships: nonprofit organizations and companies are free to create and unite their partnerships on the platform.

3° Give you a voice: each nonprofit organization creates the content it wants on the platform and we make it known to our partner companies